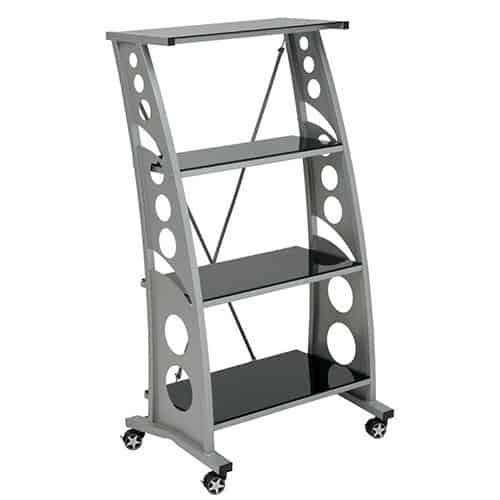 Chicane Racing Bookshelf – Black
Free Shipping!
Call for special Yellow Compass Group pricing. Shipping is always free!
Description
This bookshelf is made with a silver metal arched frame and 5 individual tempered glass shelves. Braided stainless steel lines criss-cross the rear to add stability and style. The shelf comes with 4 wheels for easy mobility, or they can be removed for a fixed installation.
Using the same style frame as the fixed chair and desks, this is the perfect compliment to your office, show room, or home set-up.
Features
Red, Black or Clear Tempered Glass
Stainless Steel Braided Hoses for Lateral Support
Racing Inspired Steel Alloy Bookcase Frame
22" Style Lockable Racing Wheels
Dimensions
Bookcase: 28" wide x 21.75" low to 55.25" high
Top Shelf: 26" wide x 15.75" deep
2nd Shelf: 26" wide x 10.625" deep
3rd Shelf: 26" wide x 13.75" deep
Bottom Shelf: 26" wide x 15.75" deep
Weight: 64 lbs.
Designed and assembled in the USA. Intro-Tech Automotive provides a Lifetime Manufacturer's Warranty on all PitStop Furniture. These are well built, solid pieces that are meant to last a lifetime!
Releated Products