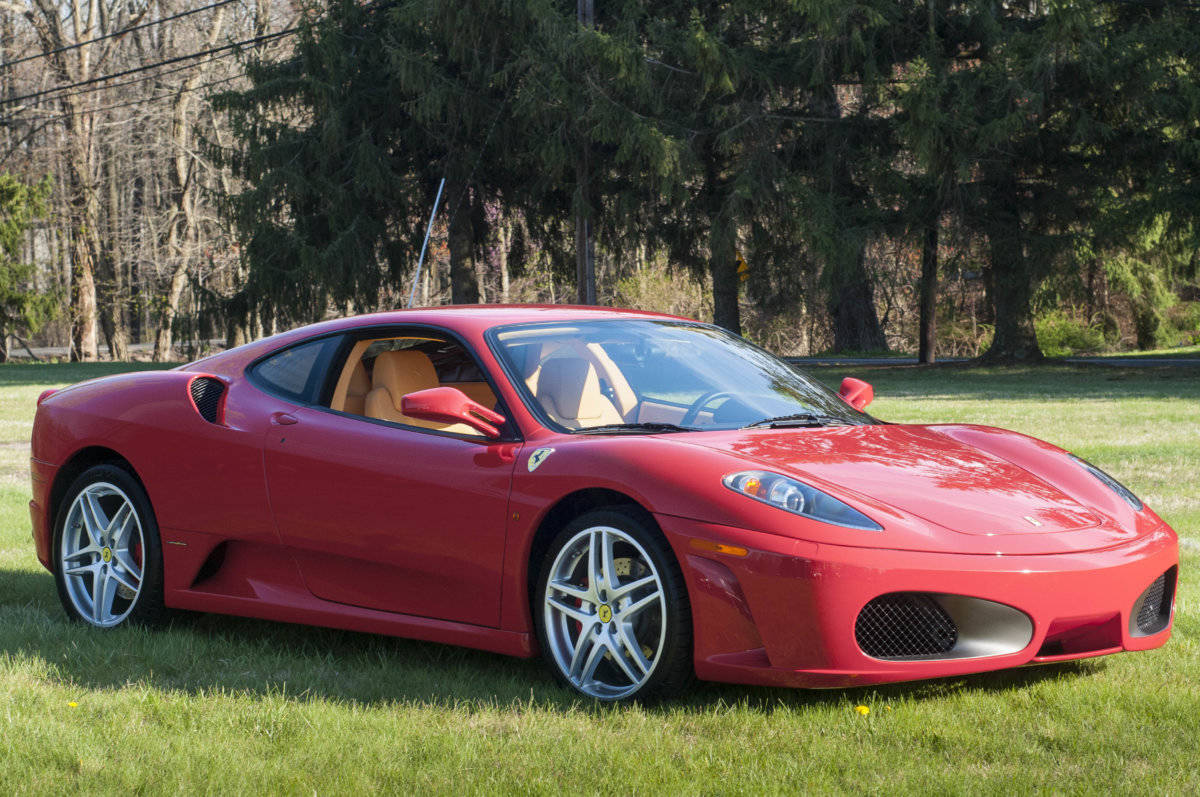 More Information
We are selling a 2005 Ferrari F430 Coupe with only 3,463 miles.  It is a time capsule car and absolute cream puff. There are not many low mileage F430's out there so have a look around and then give us a call to see this show stopper.
Ordered in Rosso Corsa with Beige interior this color combination is the epitome of classic Ferrari.  Adding great options (shown in alphabetical order), the original buyer included:
BLUE – Bluetooth Device for Mobilephone
CALR – Brake Calipers painted in Rosso Corsa
CHUS – Battery Charger USA + Pre-wiring
DAY1 – Daytona Style Seats
INST – Instrument Panel with Red Center Tachometer
LOGO – 'Scuderia Ferrari' Shields
TRIM – Material for Dashboard iin full carbon fiber
TYPP – Pirelli Tyres
The car was delivered May 2, 2005 to Ferrari of Long Island.  It was shipped to the new owner in California. The F430's are low-maintenance cars, and this one is no exception. The car has only needed annual services for fluids, brakes and inspections along with recall campaigns. This car has been gone over at Ferrari of Central NJ and has fresh fluids and is ready for its new owner.
The F430 has only 3,463 miles on it and is immaculate condition.  It still smells new and in person looks like it is still "in the wrapper."  As you can see from the photos, the F430 is in wonderful condition. The original paint is in great shape with no real noticeable marks or issues.
The leather interior is very soft and the seat bolsters are in excellent condition.  The interior has the optional carbon fiber so there are no sticky parts to worry about.  The radio works fine although we doubt you will need it.  You can also use the bluetooth to link your phone or tablet.
The windows are tint free and all doors and lids open and align properly. Basically, the car is just what you would expect with low-miles and caring owners.
The F1 gearbox is smooth and operating properly. Brakes, as you would expect are great. The car revs and accelerates very, very quickly. You will be having fun with this car. Just remember to pay attention to the smaller gauge next to the red tach – the speedometer. It is a little too easy to approach high speeds so quickly and smoothly.
The front wheels have both been checked and made perfect over the life of the car. I'm sure you know that the F430 front rims have a reputation for pot-hole softness. They are both good to go. No mechanical issues are present with the car. The car also has the factory OEM exhaust.
The car comes with the books and service records. The car has two original keys included. It has the original red car covers, tool kit, and owners manuals with pouch.
We are happy to email copies of the current clean CARFAX report to buyers. We welcome PPI's at buyer's expense at the experts at Ferrari of Central New Jersey. You will find the car just as described. We are happy to assist with shipping the car or pickup if a buyer would like to drive it home.
Hopefully this description has answered most questions about the car and excites you as to the ownership opportunities. This is a beautiful car without any worries.
Contact us for more information.  We are always looking for Ferrari's.
Michael Craig
973-610-7111
info@yellowcompassgroup.com
Go Back