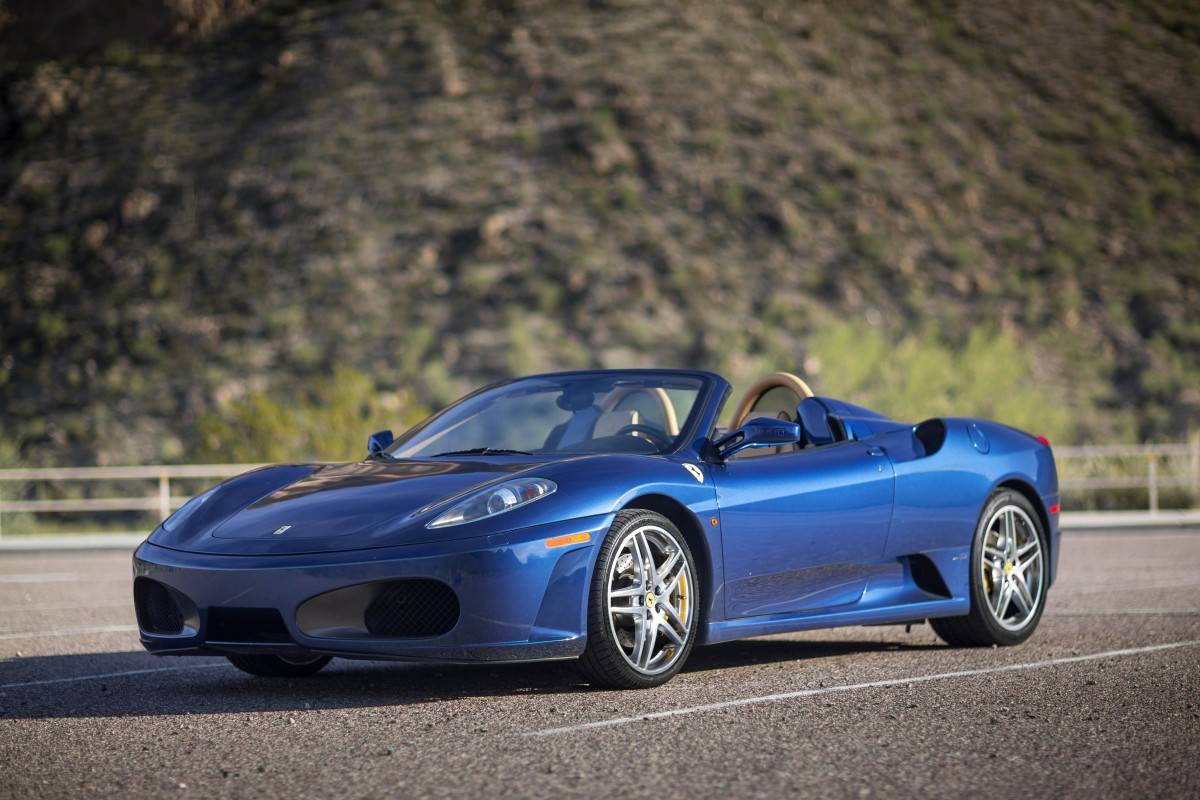 More Information
Update – We have just had the F1 transmission updated with a new clutch and flywheel as well as new fabspeed headers spending over $20k. Car needs nothing and is ready for years of low cost ownership.
We are selling a 2006 Ferrari F430 Spider with some beautiful options. This two-owner car has a beautiful color combo. Most spiders out there will be priced higher than this one. So this could be a great find for you.
Let's talk more about this car.
Ordered in Tour de France Blue with Beige interior, this color combination is very elegant. Most enthusiasts will tell you that a blue / tan Ferrari is a great combo. With less than 3% of the F430's made in Blue, you will not see these very often. Adding great options (shown in alphabetical order), the original buyer included:
CALY – Brake Calipers painted in Yellow
CEL0 – Carbon Fiber for Engine Compartment
CHUS – Battery Charger USA + Pre-wiring
ELEC – Electrically Operated Seats
GRDC – Challenge Style Rear Segment in Carbon Fiber
INST – Instrument Panel with Yellow Center Tachometer
LOGO – 'Scuderia Ferrari' Shields
PIP1 – Seat Piping in Requested Color – Blue
RIMX – Ball polished wheel rims (Standard style)
STC1 – Stitching in Contrasting Blue
TPM0 – Tire Pressure Monitoring System
The car was delivered October 24, 2006 to the original owner in Massachusetts a couple of hours outside of Boston. The F430's are low-maintenance cars, and this one is no exception. The car has only needed annual services for fluids, brakes and inspections along with recall campaigns. The car was serviced at authorized factory dealers in MA, PA, and AZ. The car spent its time in MA, and NH with the first owner. The second owner kept the car in NH and eventually moved the car to their winter home in AZ.
The F430 had only 21,430 miles at time of the photo shoot last week. It will likely have a few more miles added because of service updates at the dealer prior to sale. As you can see from the photos, the F430 is in wonderful condition. We have made sure it was well taken care of. The original paint is in great shape. There are two to three rock chips on the rear spider hood and some paint scraping behind the driver's seat from the coat hook. This area is not visible when the seat is in a normal driving position.
The Beige leather interior is very soft and the seat bolsters are in excellent condition, with nothing more than very light signs of use on the driver's side. The standard seats have contrast stitching in blue and also has piping in blue. You can tell that a few of the interior plastics are starting to get faintly sticky as these parts tend to do. We can have those taken care of The radio works fine although we doubt you will need it.
The windows are tint free and all doors and lids open and align properly. Basically, the car is just what you would expect with low-miles and caring owners.
The car was just serviced at Ferrari of Scottsdale and has new tires. They did work with the top so that it operates very smoothly and is trouble free. The clutch is at 100% and was just replaced as brand new with a new flywheel. The F1 gearbox is smooth and operating properly.
Brakes, as you would expect are great. The car revs and accelerates very, very quickly. You will be having fun with this car. Just remember to pay attention to the smaller gauge next to the yellow tach – the speedometer. It is a little too easy to approach high speeds so quickly and smoothly. The steering wheel is also a very nice touch on this car. It has a very nice feel and diameter.
The Ball polished front wheels have both been checked and made perfect over the life of the car. I'm sure you know that the F430 front rims have a reputation for pot-hole softness. They are both good to go. No mechanical issues are present with the car. The car also has the factory OEM exhaust.
The car comes with the books battery charger and tool case. The car has one original key included. A second key can be obtained by the buyer at an authorized dealer. It is missing the original red car covers.
The car had one incident in Massachusetts that required a trip to the authorized dealer to repair a rear bumper. There are no issues with the car. It is gorgeous and has enough detail and carbon fiber to excite you as a very special and well cared for example.
We are happy to email copies of the current CARFAX report along with history to buyers. We welcome PPI's at buyer's expense at the experts at Ferrari of Scottsdale. You will find the car just as described. We are happy to assist with shipping the car or pickup if a buyer would like to drive it home.
Hopefully this description has answered most questions about the car and excites you as to the ownership opportunities. This is a beautiful car without any worries.
Go Back